Just over one full year ago, I started a journey that would change both my life and my wallet forever. Not my new job and cross-county move; no, I'm talking about my decision to wade into the deep and deeply-confusing waters (and oils and essences and emulsions and ampoules and gels) of Asian Skincare.
My first post about my journey has been read by a shocking number of people, so I would definitely like to remind everyone that I have no idea what I'm talking about. I'm still incredibly new at this and also still terrified – but that post outlines the basics of Asian Skincare as I understand them. There are about one hundred trillion steps; they have to occur in a particular order; and it can take a not-insignificant amount of time.
.
Before I get into the specifics of what weird shit I'm consistently putting on my face these days, I'd like to share a few gems of knowledge that I've learned about K-beauty over the past 14 months.
I am as moist as I thought I would be. Just… so fuckin' moist all the time.
Whenever you think you have put the weirdest thing on your face (see: ethically-harvested snail goo), there will be something weirder. Where did that placenta come from? Isn't bee venom toxic? What is Donkey Milk, exactly? Who knows, but I'll probably slap it on my face eventually!
Try new things one at a time. It was so tempting for me to just open all those shiny Korean packages simultaneously, but this is a mistake that you will regret.
Japanese sunscreen!!!!!
Snail Goo will Change You. No joke. Someone will definitely judge you for putting snail shit on your face, but you will laugh at them when you look flawless in ten years and they are jealous. Because snails.
.
Whenever I'm confused about where in the routine order a new product should go, I refer to this guide, or to the geniuses over on r/AsianBeauty. That amazing subreddit also posts a seasonal "Holy Grail" list of everyone's favorite products of the moment, and is a great place to find new things to try. I check ingredients over at CosDNA to make sure I'm not sensitive to anything before I order a new product. I usually order all of my products through RoseRoseShop and Amazon. I have watched this Lisa Eldridge Facial Massage video approximately one thousand times.
Alright, onwards to

Like I said in my original post, the whole point of this adventure was that I wanted to wean myself off Proactiv (particularly, the main ingredient in both the cleanser and cream, Benzoyl Peroxide). Most people in K-beauty suggest using combination of acids called BHAs and AHAs to prevent breakouts. I was technically already using an AHA – the Proavtiv Toner is made of Glycolic Acid, which is an AHA (so are Lactic and Mandelic acids). Most people use Salicylic Acid as their BHA, though I've never found it to have any effect on my skin at all (MY ACNE IS TOO POWERFUL FOR SUCH MORTAL NONSENSE).
Unfortunately, a few months into my attempt to wean myself of facial bleach, I moved from humid, temperate Toronto to the bone-dry arid tundra of Edmonton, Alberta (RIP my entire body). It's so dry I was in Edmonton for two straight months before I stopped waking up to daily nosebleeds. The drastic change in climate wreaked some serious havok on my skin. Despite still using Proactiv once a day, I was subject to almost-constant breakouts (even those horrible under-the-skin cysty things that feel like punishment for something you didn't even know you did) all over my cheeks and chin. Finally beaten down and sick of looking like a disease-ridden teenager circa the Black Plague-era, I relented and went back to Proactiv twice a day. Please don't judge me.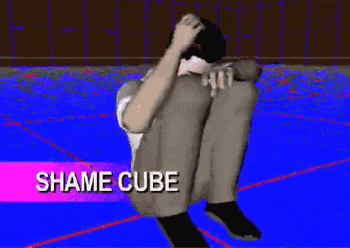 Despite my weak will, Asian Skincare has actually still managed to mitigate my major issue, which was the intense dryness that resulted from using Benzoyl Peroxide twice daily. I used to get the grossest, scaliest skin all over my face, and it was so noticeable as the day went on. By using all these AB products, I've finally managed to keep my skin as moisturized as possible (while still staying pimple-free thanks to the BP). Eventually, perhaps when I'm making less public appearances for work, I'd like to try transitioning off the Proactiv again by trying BHAs, AHAs, and retinols – but, you know. Later.
For now, these are the AB skincare and makeup products I'm using and loving!
SKINCARE
Oil Cleanse – DHC Deep Cleansing Oil (Canada/US)
If there was one thing I could truly call a "Holy Grail" product in my routine, it would be this. Every other makeup remover I've ever tried has either left a weird residue, burned my eyes, been ineffectual, or pulled at my skin with cotton pads. You only use this at night, and just one pump of this stuff is enough to take off your sunscreen, makeup, the whole shebang, because the olive oil bonds right to all the gunk on your face. It's also great to for facial massage (see above video, preferably several times before bed if you're having trouble sleeping).
On a day where I've worn a particularly stubborn red matte lip or something, you can bust out the MISSHA The Style Green Tea Lip & Eye Makeup Remover first. The lid is shaped like a heart!!
Second Cleanse – Hada Labo Gokujyn Hyaluronic Acid Cleansing Foam (Canada/US)
Here's where I'm still using my garbage Proactiv cleanser, but if I was a better person I would go back to using this awesome Japanese foaming cleanser. You need to use a second cleanser to take all that oil off your face, and you want a cleanser that has a pH close to your natural skin level (4.2-5.6). This one is 5.5.
I normally wouldn't recommend using hyaluronic acid in a dry environment (it's a humectant, so it attracts water from the air into your skin – but if there is no water in the air, it will draw the water from your skin out in the air, what the fuck), but this stuff has *deep breath* hydroxypropyltrimonium hyaluronate all up in it. That's film-forming, which stops your skin from releasing water while creating more space on your face to store water. Dang!!!!! That is some science shit!!!!
Exfoliators
Get all that dead skin off your face okay!! It's important! I use the Black Sugar mask 2-3 times a week. A lot of people dig the Strawberry version, but I haven't tried it yet. I use the Cure product probably twice a month in place of the Black Sugar scrub. Basically, you take a pump of this and rub it onto a portion of your face and you'll start to see little white balls appear and SURPRISE, THAT SHIT IS LITERAL BALLS OF YOUR OWN CHEMICALLY-EXFOLIATED DEAD-ASS SKIN HOLY SHIT
Actives 
Okay, this is where the AHA/BHA party would happen if I could get my act together. Right now I'm using Proactiv Toner as an AHA, but I would love to eventually start trying my COSRX Natural BHA Skin Returning A Sol, COSRX BHA Blackhead Power Liquid, and COSRX AHA 7 Whitehead Power Liquid (more info on these in my first post). Many people use a Vitamin C product in here as well for the L-Ascorbic Acid, but you have to like, keep it in the fridge and it stings and stuff???? I'm scared of it and have avoided it honestly, it seems like A Lot.
Also, I'm going to tell you this now, since no one ever told me, but AHAs are photosensitive, which means the sun will fuck your shit right up y'all!!! If you use an AHA, you have to use a sunscreen, no kidding, unless you dig looking like Kerrysue Convoy by the time you're 35.
Toner 
Unlike alcohol-based hecka-drying US toners, AB toners basically just prep your face for all the goodness you're about to slap onto them. I haven't started adding these to my routine yet, but when I do I'm going to try Etude House Wonder Pore Freshener (people like it even though it apparently is very alcohol-y?) and SkinFood Peach Sake Toner (apparently it's good for acne-prone skin).
Essences and Ampoules
Finallyyyyy it's time for the fun stuff!! You apply these from lightest to heaviest in texture. They're usually really watery – I just drop a blob onto my palm, rub it between my hands, and then smooth it onto my face. This feels weird for me, as someone who was told never to touch your face with your hands for fear of more pimples, but it's actually good in this instance! You can even tap it into your skin for extra absorption. Right now I'm using:
CosRx Advanced Snail 96 Mucin Power Essence – SNAILS, MY BEST FRIENDS. Don't you worry: the snails are fed and treated well; their goo is ethically harvested without harm to the snails; and all the goo is purified before going into a bottle. What does it do, exactly? Uh, scientifically… they're not, like, super sure? It retains water and softens skin, is antimicrobial, and full of anti-oxidants, collagen, elastin, and more. It might heal wounds or reverse sun damage. Whatever it does, it's wicked rad and I highly recommend it. This stuff in particular is 96% (!!!!) snail goo and hydrates the living heck out of my face. Holy Grail for sure.
Tosowoong Propolis Sparkle Ampoule – Mmm, propolis. Bees harvest it from tree buds to varnish honeycombs, and now you too can benefit from bee glue all over your dang face. This ampoule is 80% propolis and makes your skin nice and shiny. Plus, there's honey extract in it, which is nice for people with sensitive skin.
Nature Republic Real Nature Rose Ampoule – I would be lying if I didn't admit that most of the reason I love this stuff is because it just smells so dang good. It's quite thick and good at getting rid of dry, rough patches, but honestly it's like putting rose petals directly on your face, and that's enough to make me re-buy.
Masks
A few times a week, in the evenings when you have some down time and there's no one else home to make fun of the fact that you look like a) Jason Voorhees or b) like your own faceskin is melting off, you can slap on some good good face masks at this point in your routine! For regular-ass, paper sheet masks, I really like the Japanese LuLuLun masks (Canada/US), which are designed to be used daily (check here for an explanation of the different colors). My favorite masks are the Hydrogel kind, which are made of a heavy gel and a little fancier than the sheet type – I usually use the Nature Republic ones, but I'm going to try the new line from Etude House. I try to use under-eye patches a few times a week too – the Petitfee Black Pearl & Gold Hydrogel Eye Patches are A++++.
People lose their shit over these Freeset Donkey Milk Healing masks but honestly?? Donkey Milk?????? I gotta draw the fuckin' line somewhere, folks.
Emulsions and Creams
Alright, it's moisturizin' time (just now????????? wait what the hell is the rest of this stuff then oh god someone please send help). Emulsions are lighter, creams are heavier, and you use them in that order. I use my Proactiv Benzoyl Peroxide cream here too. OKAY HERE WE GO:
Innisfree Olive Real Lotion -I figured since my skin seemed to like the olive oil in the DHC cleanser I would give 'er a little more here. This bottle is fucking impossible to wrangle, it's like a damn ketchup bottle, but the olive and camellia oil added a little extra moisture to my skin to keep it from getting dry in the winter. I'll probably leave it off in summer.
Mizon Black Snail All-in-One Cream – Another Holy Grail! Not only is it 90% snails (snails!!), but this cream is also packed with niacinamide (Vitamin B3) which is so good for your skin. This shit instantly cured my dry and scaly patches. Also, when you touch it, it's so gooey it pulls up in strings like hot cheese. Can't live without it.
Eye Cream – Etude House Moistfull Collagen Eye Cream

The internet's favorite Moistfull product has become my favorite Moistfull product (say moist again, eh??). It's 30%  hydrolyzed marine collagen straight from fish scales (mmm, perfect for my eye skin), plus some baobab mucus and, I don't know man, make-up artists used to yell at me for my scaly eyeballs and eyebrows and now they don't. I rub it under my eye right up to the water line, and then from the crease into my eyebrows. Holy Grail.
FINISH HIM 
Your final move(s) will depend on whether it's morning or evening. You gotta wear sunscreen every day I know I'm sorry!! I don't make the rules!! That's just the way it is!! Especially if you're using an AHA or anything else that's photosensitive (that includes anything with citrus in, which includes a lot of the above products). At night, you use an occlusive, which seals in all the good good shit you just put on your face. If you have any pimples, lance those suckers (or pop them, I know you're gonna do it anyways, I do too), then slap on a miraculous CosRX Acne Pimple Master Patch and watch it suck all the gross stuff out of the wound so your face is flat again by morning. Otherwise, I dig:
Laneige Lip Sleeping Mask – This one, however, I have tried, and WHOA PLEASE BUY THIS IMMEDIATELY. My lips are chronically dry (ew, I know) and nothing has ever really worked for them (the closest I ever came to anything helping was Bite's Agave Lip Mask). This overnight mask has legitimately changed my life – I wake up with perfectly moisturized lips every single day. It goes on thick but never leaves a mark on your pillow and is completely absorbed by morning. If I'm in bed ready to go to sleep and I've forgotten this, I will get my ass up out of my warm bed to put this on that's how much I love it. Holy Grail.
Shiseido SENKA Aging Care UV Suncreen (Canada/US) – If you gotta wear sunscreen every day, you better make it Japanese sunscreen, which is pretty much the exact opposite of the white gloop we get here that always makes me break out. It's nice and thin and leaves you with a little bit of a glow instead of drying matte, like other Japanese sunscreens. It's got SPF50+ (UVB protection against sunburns), and is rated PA++++ (UVA protection against aging and cancer). Korean sunscreens can only be rated up to PA+++, so that's why a lot of people prefer to stick with Japanese brands. You can also find this product listed some places as Shiseido SENKA Mineral Water UV Essence.
So that's the whole thing. It looks overwhelming like that, but really my routines look something like this:
AM: Cleanser, Toner, Essence, Gel, Black Snail All-in-One, Eye Cream, Sunscreen
PM: Double Cleanse, Toner, Essence, Ampoules, Gel, Creams, Eye Cream, Sleeping Pack
Totally manageable, and makes for a nice time in front of the TV where I get to feel like I'm engaging in ~*self care*~, which is pretty important as of late.
MAKE-UP
OKAY THAT WAS A LOT BUT THAT'S THE WHOLE THING. This ended up being way longer than I thought it would be again, but hey. Everybody needs a hobby – I don't give a shit about shoes, but I'll get fucked up over some snail creams. As always, this is just what I think I've learned on the internet this past year – if I'm fucking up hard or if you want to share your own, better knowledge with me, please hit me up on the ol' Tweet machine @SamMaggs. NOW GO FORTH AND BE MOIST.